It seems you can't go wrong when giving an animal or pet themed gift item. Animal themed gifts have a way of bringing warm fuzzy feelings or laughter to the recipient. I've been busy working on some cute designs featuring cats all decked out for the holidays.
Here are a few that I like.  This cool grey cat featured on this magnet is on a soft rosy background. He's looking pretty laid back in his Santa hat.
Another cute design is this same grey cat, except along with his Santa hat he has some colourful Christmas ornaments hanging from his ear. This design can be purchased on several different shirt types like t-shirts, long sleeved tops, different fabrics and hoodies too!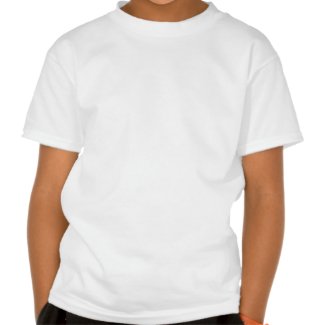 The next product that would make a fun gift for a cat lover is a unique coffee mug. This cat is looking pretty cool all decked out for the holidays. Take it even further and fill the mug with someone's favourite teas, coffee or hot c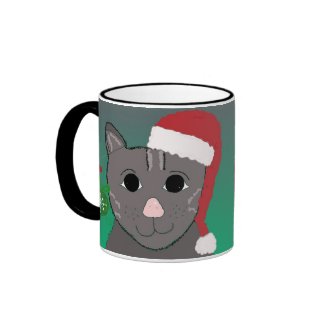 hocolate mix.
Another fun animal design that I've created is this cute little holiday pig. He really has a lot of character, at least I think so! He's wearing a red and white polka dot ribbon with greenery around his chubby neck. I've put this little fellow on several different products.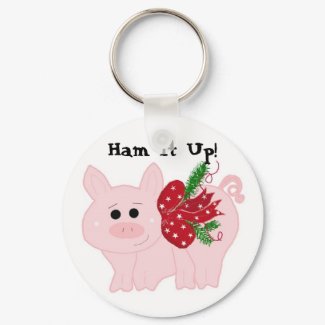 A keychain makes a great stocking stuffer. I also put this cute little pig on a t-shirt with a great saying. 'Ham it Up!' Gotta love that one!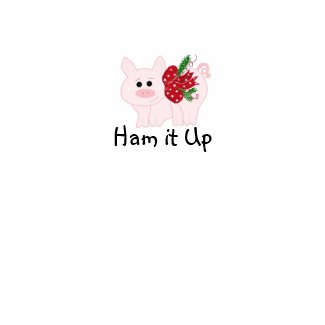 Well Happy Shopping and try not to get too stressed out!  Stop by my store for more great gift ideas. Designs by Shell